Learn more about Tech-Explorer: Tech-Explorer catapult building introduces STEM careers, Sierra College NSF Tech-Explorer teaches applied Math & inspires STEM Careers and Instructions to build the Tech-Explorer Manual Catapult developed by Sierra STEM
New NSF Grant enhances Project
In May 2010, Sierra College won a National Science Foundation Grant to build on the success of the catapult project and integrate math modules into the learning experience. Learn more about the Tech-Explorer NSF project. Watch the movie: STEM Tech-Explorer Catapult – Sierra School Works Applied Math .
Trainers Engage Students
As part of the CACT Tech-Explorer experience, your students are guided by technical trainers in the safe operation of mills, lathes, drills and other equipment to manufacture a catapult.
Turnkey Project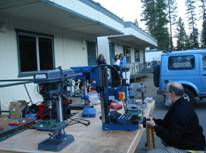 The Sierra College CACT Catapult project comes with equipment, materials, safety gear and expert instructors who guide students through safety training and fabrication of catapults.
Meet State Standards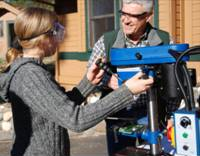 The Tech-Explorer Catapult project has been developed by Sierra College CACT to meet state curriculum standards in English, math, history and science.
Build Career Aspirations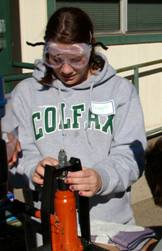 Many students have never operated automated tools or actually made and assembled something. They may discover an affinity for design, engineering, manufacturing or equipment repair and an interest in new career options. Young women may especially benefit from learning about highly-paid, in-demand technical careers.
What teachers say: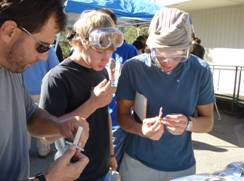 "CACT did everything. I enjoyed participating with my students while the trainers led the class."
"Students quickly learned to use the lathe and other equipment; it was amazing."
"They were engaged for the whole class period."
"This project provides a way to apply what I'm teaching. I can see using it throughout the semester."
"The program had stations which were well organized and the students knew what to do."
"I had one student who went and researched on the internet how to build a different design for a new catapult."
What students say:
"I have never done anything like that. But when it was done I felt good."
"I had fun with all the tools I used to cut and shape metal."
"I learned how to use a lot of new machines."
"I'd never done a project like this."
"I think it would be fun to go into engineering now."